As featured in CIO Review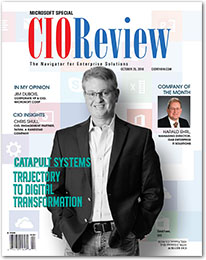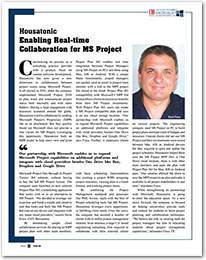 As featured in CIO Review's 100 Most Promising Microsoft Solutions Providers 2016 -
Housatonic: Enabling Real-time Collaboration for MS Project
Commencing its journey as a consulting practice provider with a primary focus on custom software development, Housatonic has now given a new dimension to collaboration between project teams using Microsoft Project. It all started in 2001, when the company implemented Microsoft Project 2000 to plan, track and communicate project status both internally and with stake holders. During a large engagement with resources scattered around the globe, Housatonic tried to collaborate by sending Microsoft Project's Proprietary (MPP) file as an attachment.
But they quickly found out Microsoft does not provide a free viewer for MS Project. Leveraging this opportunity, Housatonic built an MPP reader to help users view and print Microsoft Project files through its Project Viewer 365 solution, without having to buy the full MS Project license. The company soon launched its next solution Project Plan 365, a scheduling application that works with or as an alternative to MS Project. "We decided to leverage our expertise and build a simple and intuitive tool that looks and feels like MS Project but runs on any device and integrates with any major cloud providers," asserts Sorin Fiscu, CEO, Housatonic.
By introducing simple cloud collaboration services for sharing an MPP project plan with other team members, Project Plan 365 enables real time integration between Project Managers using MS Project on PCs and those using Mac, iOS or Android. With a simple Share functionality, project managers can quickly send an email to project team member with a link to the MPP project file stored in the cloud. Project Plan 365 compatibility with Microsoft's MPP file format allows clients to maximize benefits from their MS Project investments. With Project Plan 365, users can create a MS Project compatible plan and save it on any cloud storage location. "Our partnership with Microsoft enables us to expand Microsoft Project capabilities on additional platforms and integrate with cloud providers besides One Drive like Box, Dropbox and Google Drive," says Fiscu. Further, it empowers clients with basic scheduling functionalities like creating a project WBS, assigning project resources, viewing plan in a Gantt Format, and tracking project status.
By combining the Project Management standards and processes like PMI, Scrum, Agile with the best of Project scheduling tools like MS Project, Housatonic leverages every opportunity in fulfilling client needs. Over the years, the company has assisted a number of clients with its stellar project management solution. In an instance, a large U.S. based engineering consulting firm required to collaborate with their external clients on various projects. The engineering company used MS Project on PC to build project plans and keep track of budgets and resources. Outside clients did not use MS Project and their environments were mixed between Mac, iOS or Android devices but they required to open and update the project schedules. Housatonic helped them save the MS Project MPP files in One Drive cloud location, share it with other team members and open the plan with Project Plan 365 for Mac, IOS or Android apps. "Our solution allowed the client to save the MPP project type plan and make it available to all project stockholders in real time," elucidates Fiscu.
While strengthening its partnership with Microsoft, Housatonic is going to enter the education space. As a next move forward, the company is focused on helping universities provide tools and content for students to learn project planning and collaboration techniques. "We believe not only in creating tools for project managers but also in educating students about project management capabilities," delineates Fiscu.